Yahoo mail More Settings option part 2
Yahoo Mail includes a wide set of options respecting settings and configuration that allow users to manage and customize their experience, in every aspect from the most basic to those that are more advanced. This is the part of the More Settings options offered by Yahoo Mail, addressing important features and characteristics of the platform that can be modified by the users anytime.
Yahoo Mail Viewing email, Out-of-office response and more
In the second part of Yahoo Mail More Settings are included advanced functions as mentioned in the title, as the ones we will be addressing in more details in the following section that allow to enable or disable some features, manage security functions, contacts and some visual options for best convenience according to users´ needs at some point.
To access the More Settings menu, click on the "Settings Menu" button located to the right, and then on the "More Settings" button on the actual menu.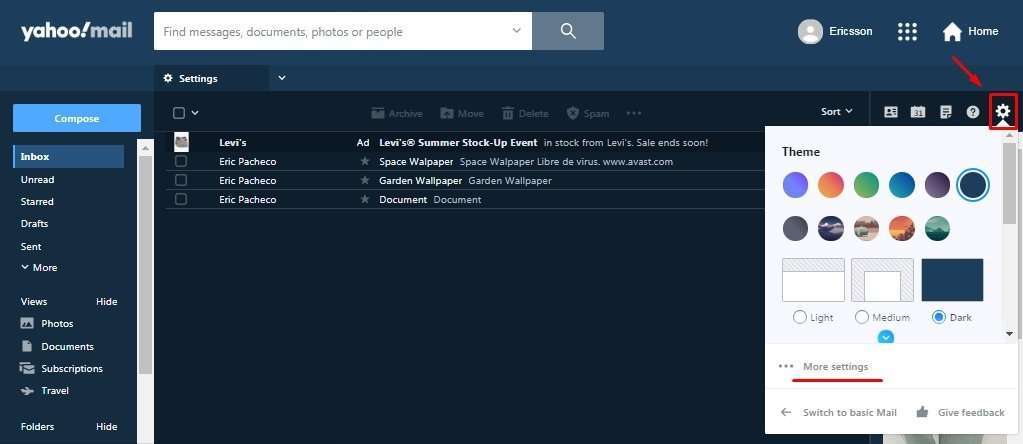 Viewing email
Now that we are able to see the More Settings menu, start by clicking on the Viewing email option, as the one that allows to change email or message layout, group messages in conversations, along with other actions. Click on any of the check boxes to apply changes.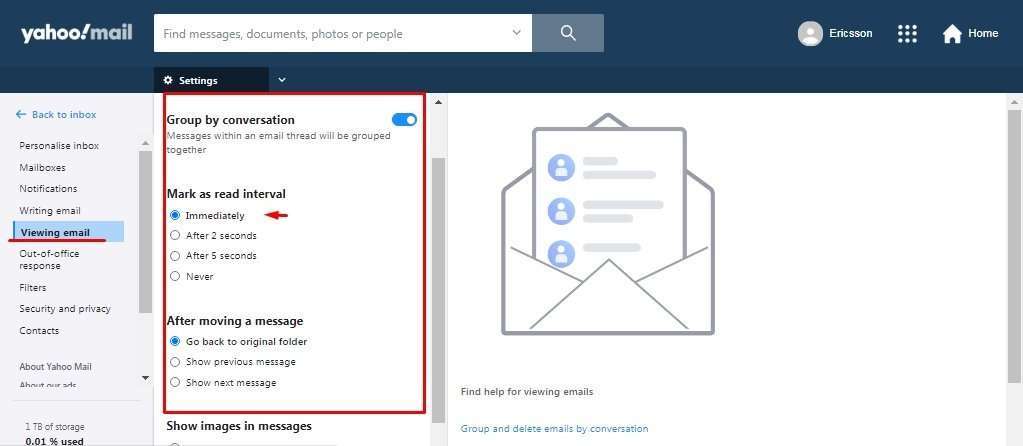 Out-of-office response
In many cases, contacts and people we know want to reach or send messages to us in hours or even days when we are not available, as well as when we are out of office. With Yahoo Mail and the Out-of-office response is possible to set an automatic email that will be sent to those who are reaching us when we are not available.
To enable this function, click on the option "Out-of-office response" on the menu on the left and then click on the switch placed to the right. By doing so, a panel will be available to compose the automatic message that will be sent, along with unavailable days.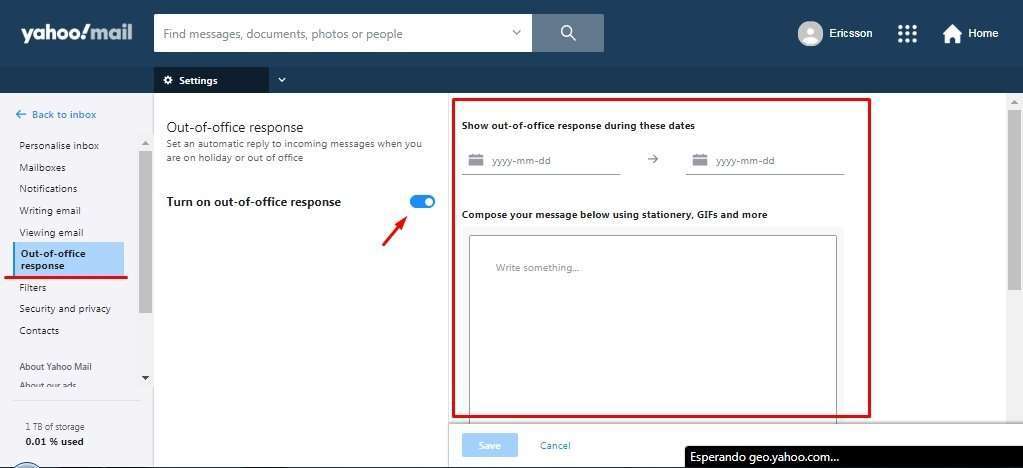 Scroll a little bit and click on "Save" to apply changes.
Filters
With Filters, the user will be able to set a filter so messages can be sent directly to this container, depending on the information such emails may have. On the main menu, click on Filters and then on the left click on "Add Filter", and on the right a new panel will appear where the information about the filter can be entered, such as name, set rules and more.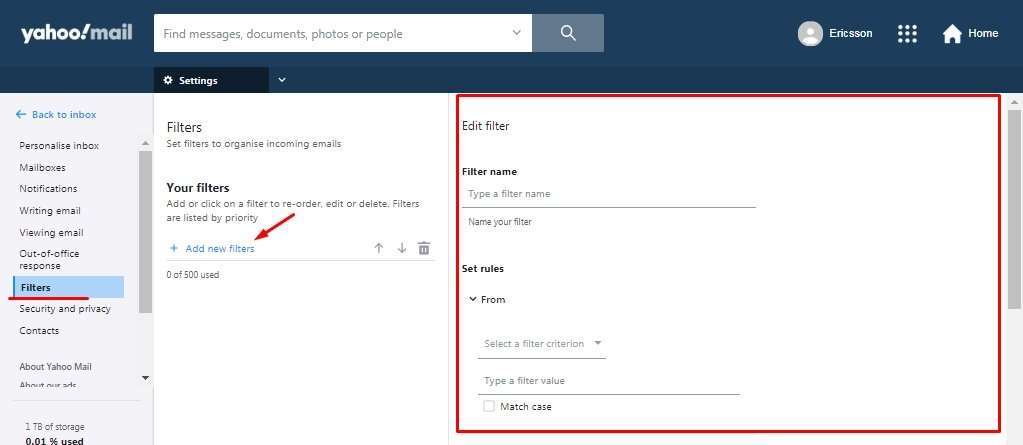 Click on "Save" to apply changes.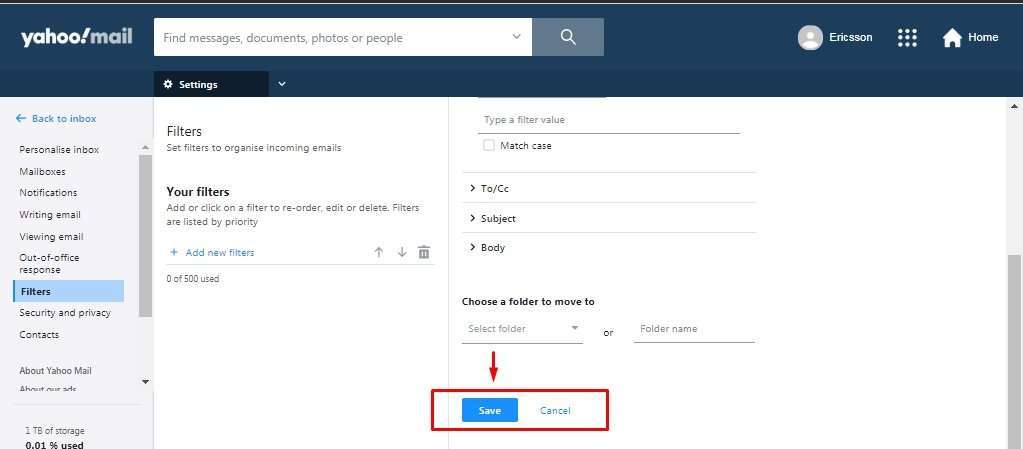 Security and privacy
In the Security and Privacy category, users are going to be able to block suspicious addresses that have been sending Spam. In the category, click on "´+add" in Block addresses and on the right enter the email address that is needed to be blocked. Click on "Save".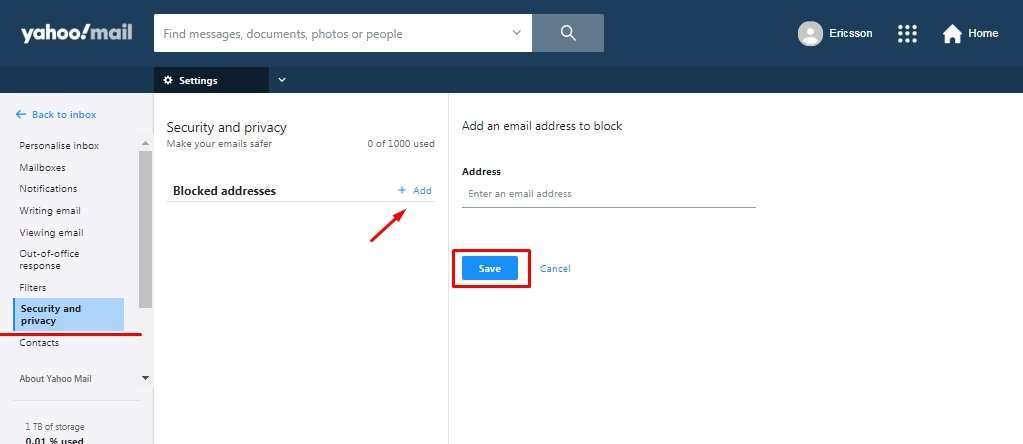 Contacts
With the Contacts category, it is possible to import contacts from other Yahoo mail accounts and also Gmail, Outlook and AOL addresses, and also be able to connect LinkedIn accounts. To do it, click on "Contacts" in the main menu and then on "Import" on the corresponding email provider. A new window will appear asking to log in.