Yahoo Mail More Settings option part 1
With settings and different configurations online services and platforms in general allow users to custom the way these work, according to their specific needs and requirements. In many cases, configurations can be quite extensive and a clear example are the Yahoo mail settings, with basic ones and also those that are described as "More Settings". This is the part one of such configuration in Yahoo Mail.
Accessing the different options on the More Settings
To access the More Settings panel on Yahoo Mail, the first step is to log in on the platform and once we are in, following the next step to find and start using such option:
Locate the Settings menu with button with the configuration icon on the right, down below the Home button on the top.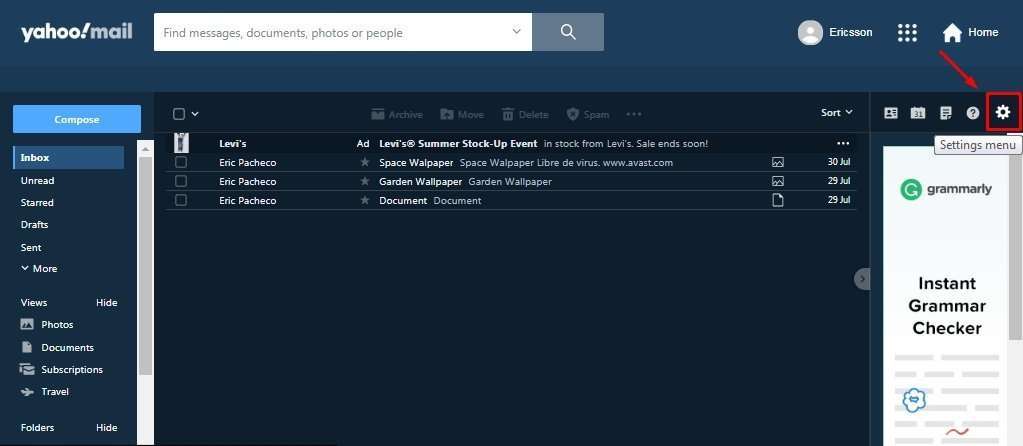 The Basic Settings will be opened. However, on the bottom of such menu we can see that there is an option called "More Settings", so click on it.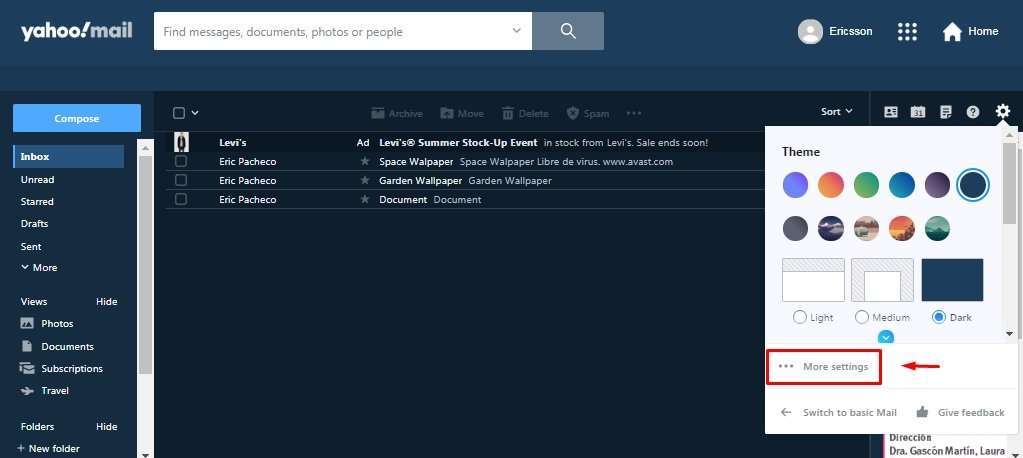 In this way, the whole Settings panel will appear with options categorized in tabs, placed to the left.
Yahoo Mail Personalize inbox, Mailboxes, Notifications and Writing
The four first options that we will be addressing as part 1 of the More Settings menu are Personalize Inbox, Mailboxes, Notifications and Writing email, with functions respecting every category:
Personalize inbox
The Personalize inbox category as the name says involves visuals and custom options respecting layout, spacing and theme, for the user to change every aspect and make the experience of their own.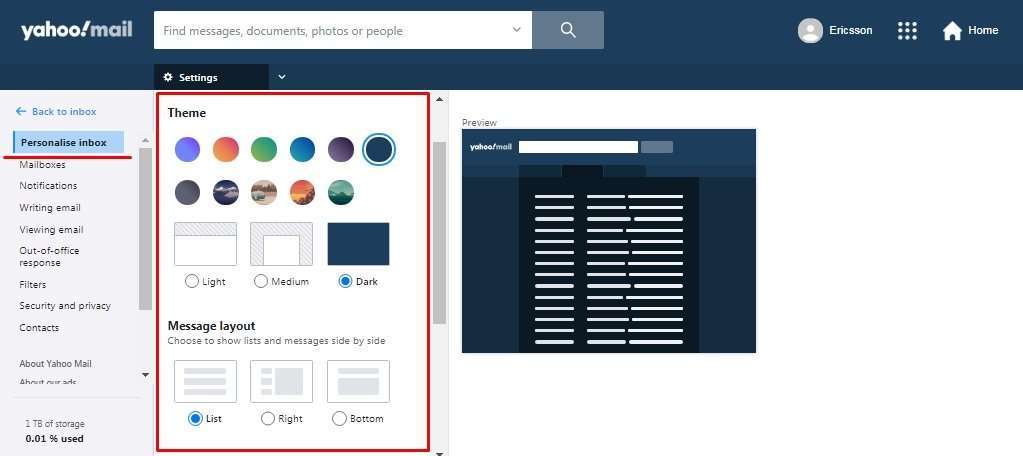 If we scroll down a little more, we will be able to see the valuable options of "Message tabs" and "Message previous", which are perfect for multitasking.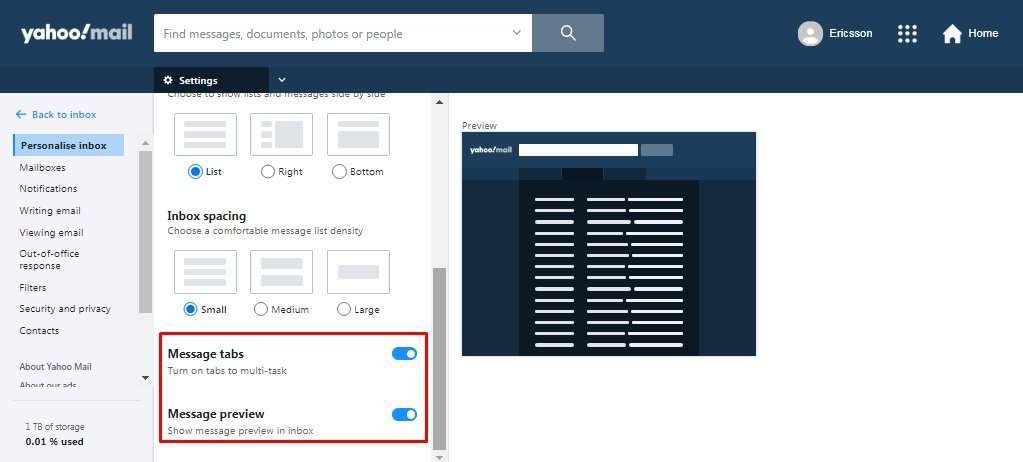 Mailboxes
Mailboxes is a powerful function available in Yahoo Mail that allows the user to integrate, receive and send message and manage other email accounts in general, from other relevant providers like Gmail, Outlook, AOL and more, up to 50 can be included. Click on "Add mailbox" to start.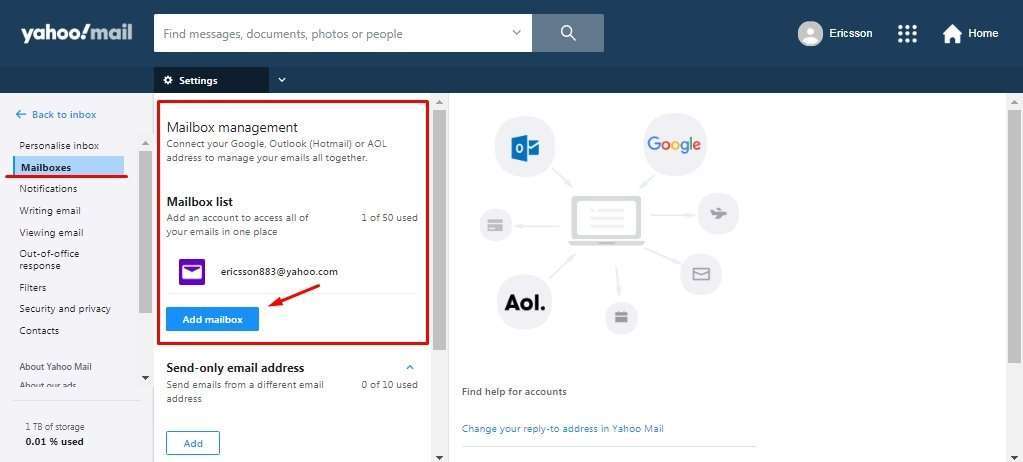 Down below, there are other valuable functions as "Send-only email address" and "Disposable email address", this last one perfect for temporary services signing in. "Click" on add to start.
Notifications
Yahoo Mail is compatible with desktop notifications and therefore it lets users know when messages are received and other actions. Click on the switch button icon on the "Desktop notification" option to enable or disable this function. Desktop notifications are disabled by default.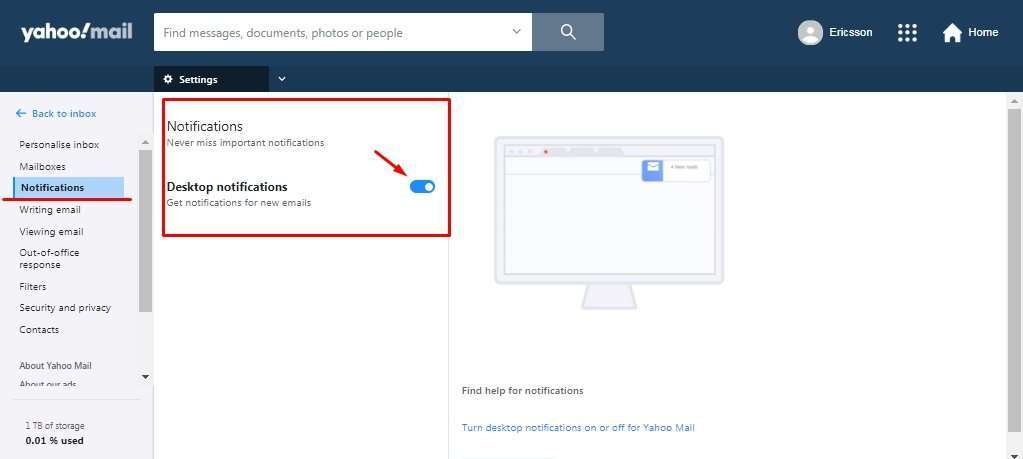 Writing email
In this category the user is able to manage their email writing experience. For example, signature and default sending address can be added when more than just one account is introduced.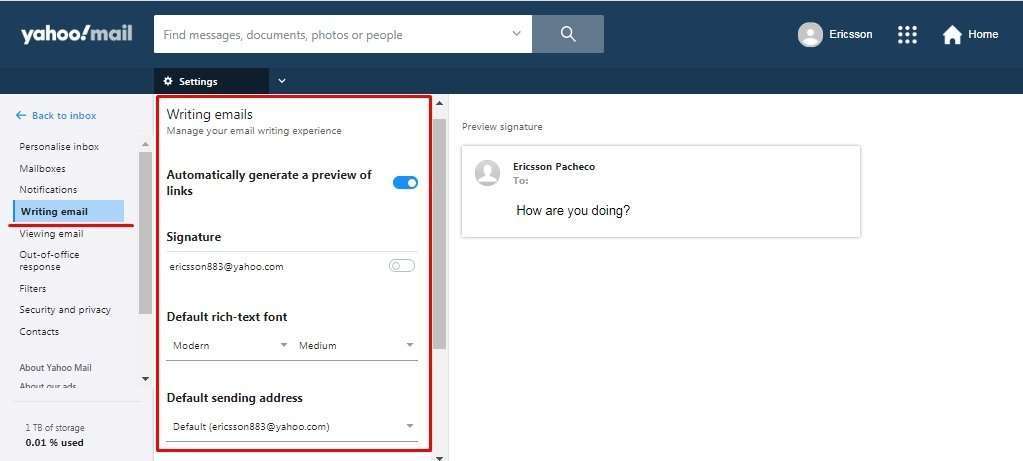 One important function in this category is the "Connected cloud storage accounts option", allowing to connect the Yahoo Mail account with cloud storage providers, in this case Google Drive and DropBox.
To do it, click on "Connect" and a prompt window will appear asking to enter the email address and password related to the service, either DropBox or Google Drive.