Yahoo Mail Forwarding How to Set Up
It seems like everyone has at least three different email accounts these days, and often they are on different email platforms. I personally have Gmail and Hotmail email addresses in addition to my Yahoo account, and sometimes it is a challenge to keep track of everything. This is where automatic Yahoo Mail Forwarding can be a life saver. When you enable email forwarding in your Yahoo account, all of the messages you receive to your Yahoo email address will be automatically redirected to another email address that you specify, which could be on any other provider, and a copy will be stored in your Yahoo inbox too, just in case.
Yahoo Mail Forwarding
Setting up mail forwarding in Yahoo mail can be a little tricky if you don't know what you're looking for, so we've put together a step by step guide (with pictures!) to guide you through the process.
Enable automatic Yahoo Mail Forwarding
As usual, you'll want to sign into your Yahoo account and go to your inbox by clicking on the "Mail" icon on yahoo.com.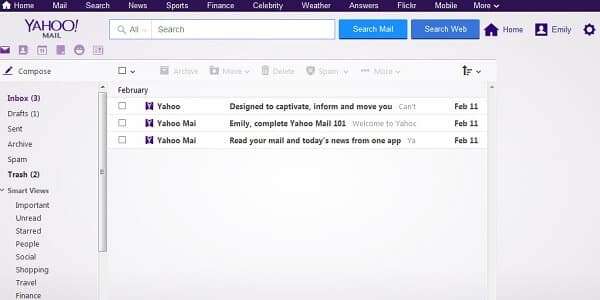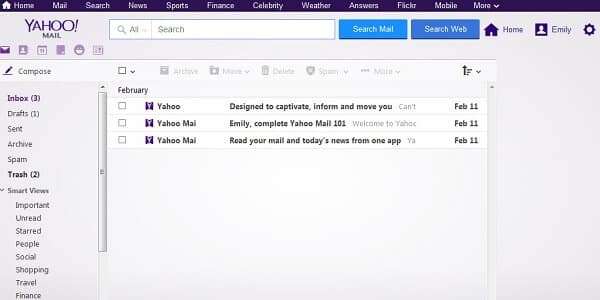 Once you're in your email inbox, find the "cog" icon in the upper right-hand corner of the screen, next to your name.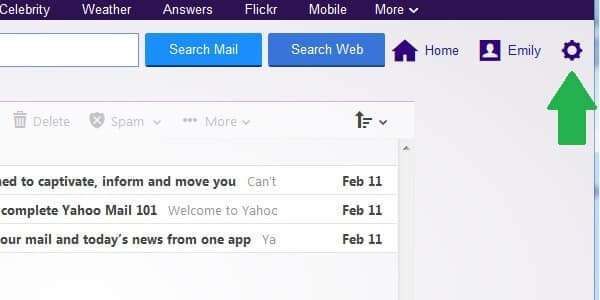 Hover your mouse over this icon, and a dropdown menu will appear. Click on "Settings".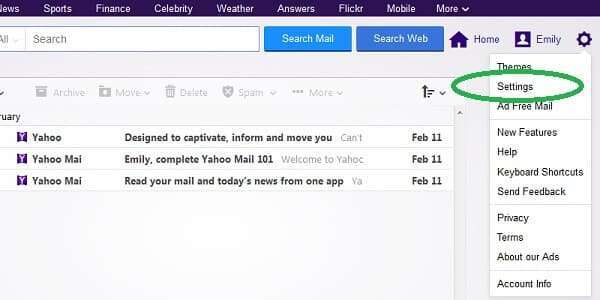 A new settings window will appear inside your main window. Go to the left sidebar and click on the option labeled "Accounts".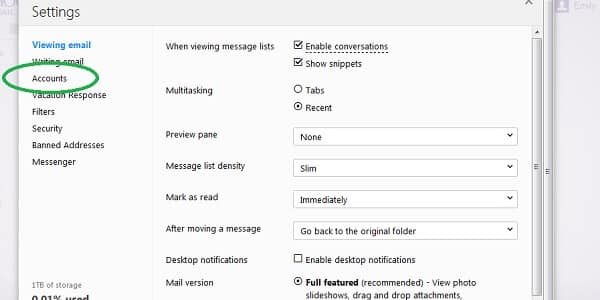 The first account listed will be the Yahoo account you are currently signed into. Since this is the email address you will be forwarding messages from, this is where we need to change the settings. Click on this account to see its options.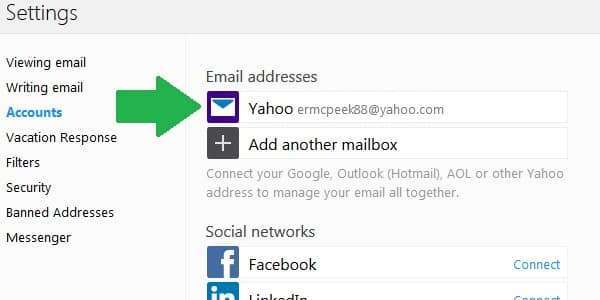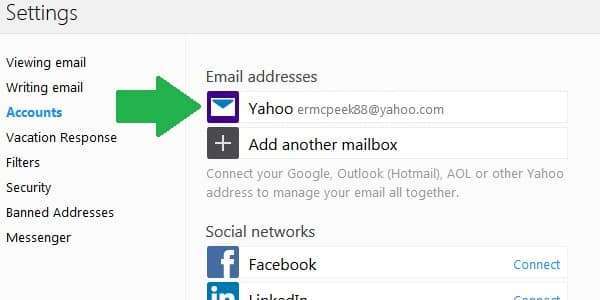 You have lots of different options for your account, but what we want is near the bottom, so you'll have to scroll down a bit.
When you find "Access your Yahoo Mail elsewhere", you're in the right place.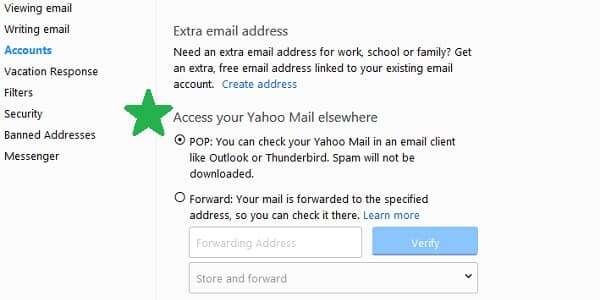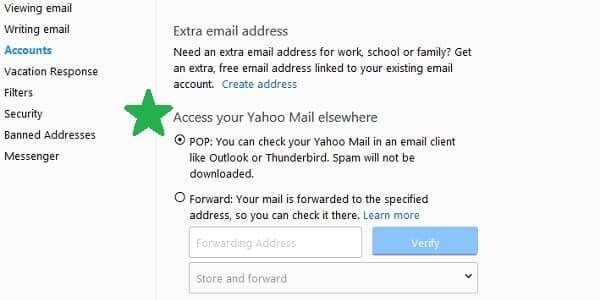 Yahoo Mail Forwarding is set to "POP" by default, which lets you read emails offline in select email platforms, like Outlook. Most people just want all their mail forwarded, though, so click on the bubble next to "Forward" to switch to the basic forwarding option.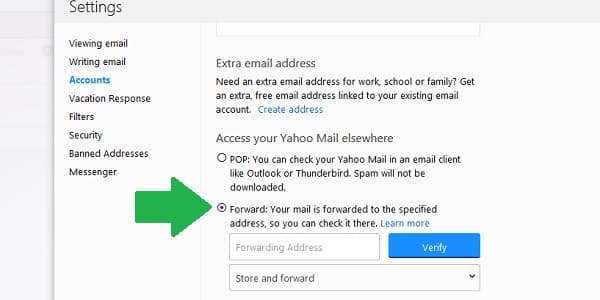 Below the box to input your forwarding address is an option for what you want Yahoo to do with the messages it forwards to your other email account. Your options are to store a copy in your Yahoo inbox, or store a copy in your Yahoo inbox and mark it as "read". This is a personal choice; I prefer to mark forwarded emails as "read" in my Yahoo account so I don't end up reading the same emails twice. To change this setting, just click on the small "down" arrow in the box and click on the option that you prefer.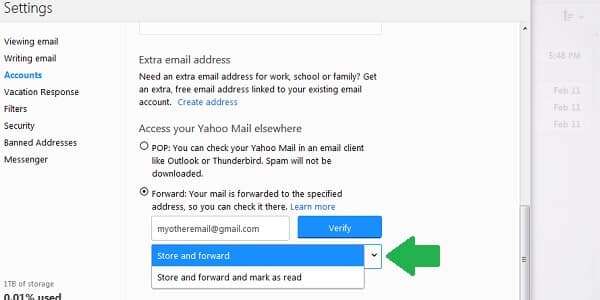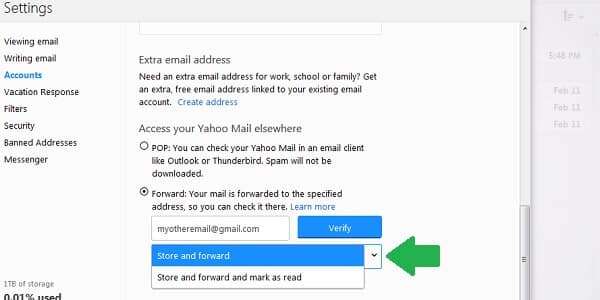 In the box marked "Forwarding Address", enter the email address which you want your Yahoo emails to be sent to. Make sure you enter it correctly and that you have access to the other account, because you will be required to verify it before any mail can be forwarded. After entering your forwarding email address, click on "Verify".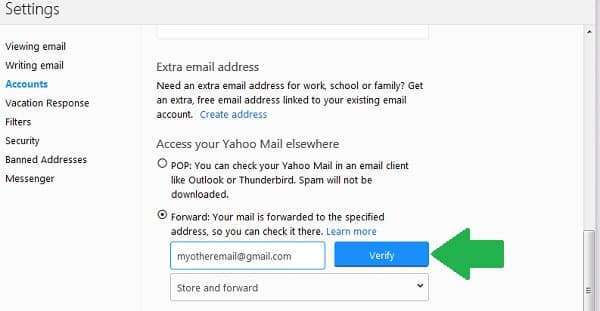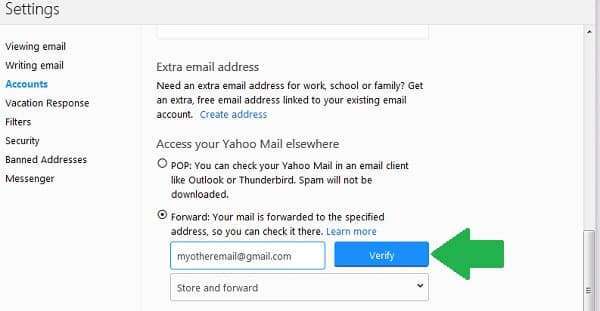 One of two things will happen depending on your browser's settings. You may see a new tab or window open with a Yahoo sign in box – if this happens, just re-enter your password, and you'll be taken to your "Account Information" page where you can send a verification email to your forwarding address. First, click "Verify now" next to the unverified email address, then click "Go to *other email provider*" to find the verification email, or click "Close" and "Save" and check your other email later.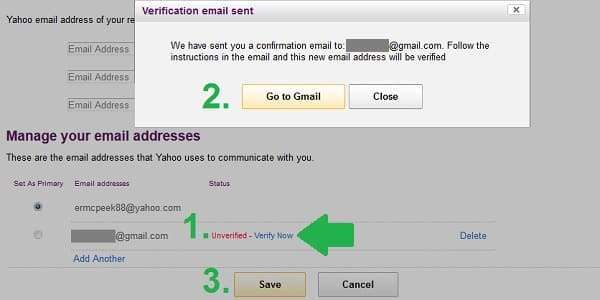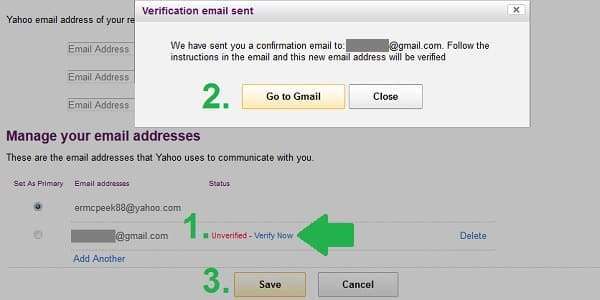 What will most likely happen, however, is that your browser will block the new window from opening and you'll see something that looks like this: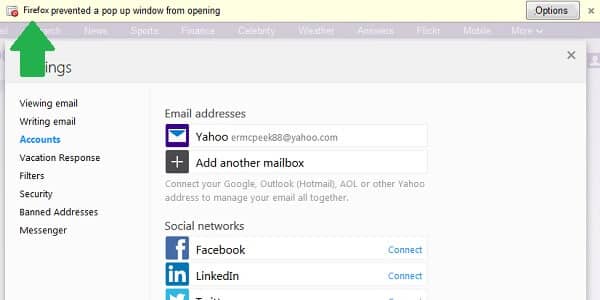 It could also be a small red "X" in your address bar, depending on what type of browser you're using. Click on the pop-up blocked notification to allow pop-ups for this site, and the new window will open. Then, follow the steps listed above to verify the forwarding email address.
When you get to the verification email in your other account, there will be simple instructions and a link that you need to click to verify your forwarding address. Once you click the link, your forwarding address will be verified.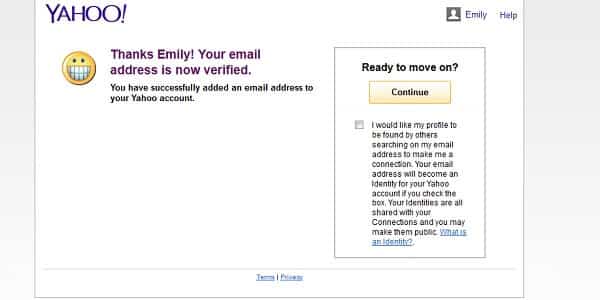 You're welcome, Yahoo!
Any email you receive to your Yahoo account should be automatically forwarded to the other email address you just verified. If you want to double check, you can go back through the first steps to the "Accounts" page again and make sure that "Forwarding" is turned on and pointing to the email address you want.
You can turn off email forwarding at any time by going back to the "Accounts" page, selecing the "POP" option, and clicking "Save".