Yahoo mail account How to Mark and Delete Spam
Nobody likes their email to get cluttered up with SPAM or junk mail. Yahoo mail account has a built-in spam filter that's pretty good, but if any junk emails slip past it and into your inbox, you can easily mark is as spam and get rid of it, while simultaneously teaching Yahoo Mail to improve its spam filter.
In this tutorial, you'll learn how to mark messages as spam, report spam and suspicious emails to Yahoo, and delete spam permanently from your email.
Yahoo mail account How to mark messages as spam
To start, make sure you're logged into your Yahoo account and in your inbox or whichever folder you have messages that you would like to mark as spam.
Remember that marking messages as spam teaches Yahoo that you don't want to see those emails in your inbox at all – if you just want to delete a wanted message, use the "delete" button, not the "spam" button.
If you have used your Yahoo email address to register on various websites or sign up for newsletters, you may very well already have messages that were sent to the spam folder automatically. Sometimes messages you actually want get sent there by mistake, so if you are ever expecting an email and it never comes, check your Spam folder just in case. You can find it in the left side bar underneath the Archive folder.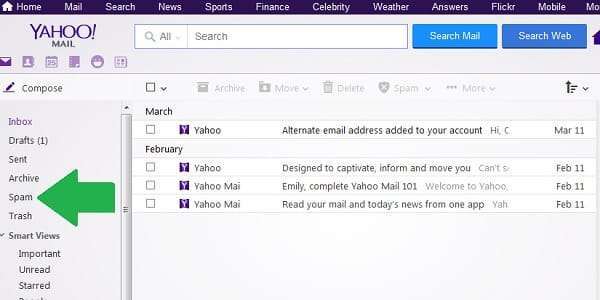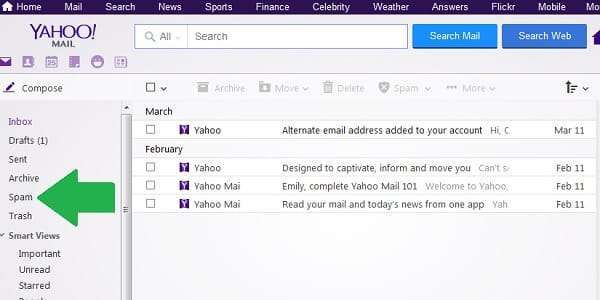 To mark an email as spam and send it to the Spam folder from your Inbox, check the box next to the unwanted message (or messages) and then click on the "Spam" button in the options bar at the top of your inbox.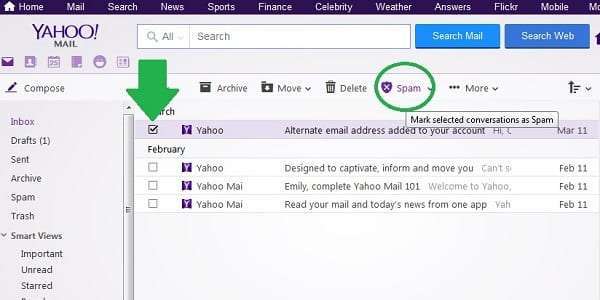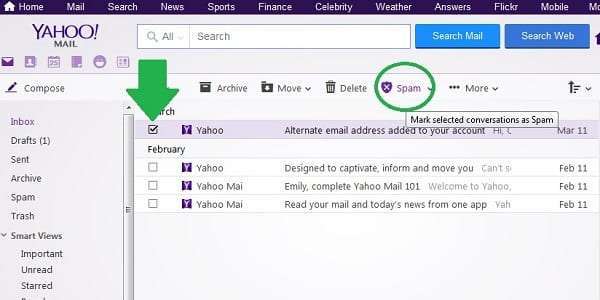 All this does is send the message to the Spam folder and improve Yahoo's filter so you receive fewer messages like that in the future. If you want to report a sender for being abusive with spam, if you think the email is part of a phishing scam, or if you think your account might have been hacked, there are also options for this. You can find them by clicking the dropdown arrow next to the Spam button and selecting the option that's appropriate for your situation.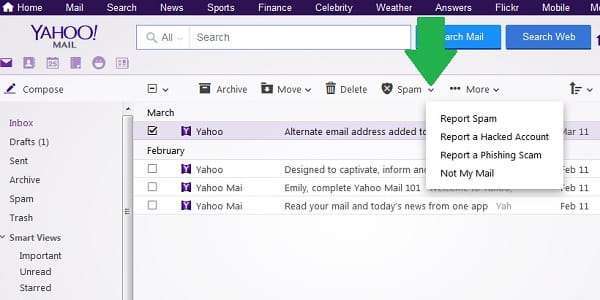 You can also mark a message as spam or report it using the same options while reading the email. With the unwanted message open, you'll have the same Spam button in the top menu as in your Inbox.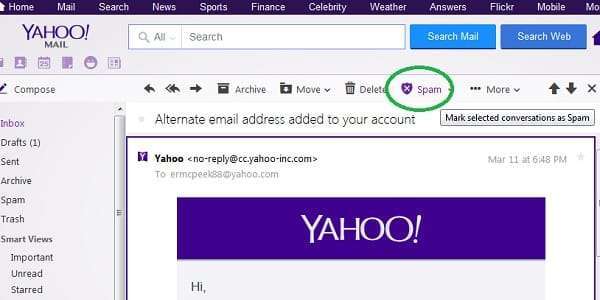 After you click the Spam button, either from the message or from your Inbox, you'll receive a little notification letting you know your action was successful.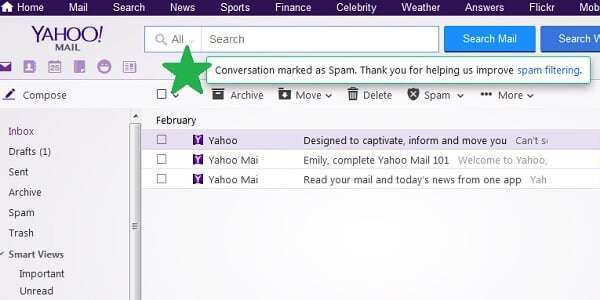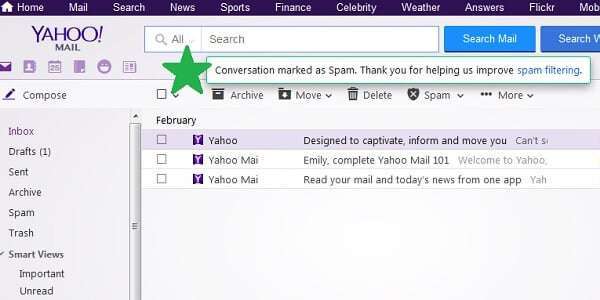 And the spam message will be removed from your Inbox and placed in the Spam folder.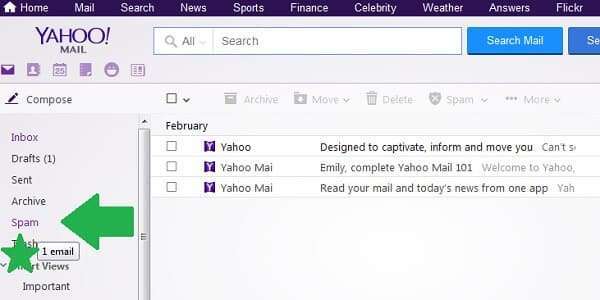 Yahoo mail account How to mark an email as safe (not spam)
As we mentioned above, sometimes messages that you actually want get sent to spam by mistake. Sometimes we accidentally click on the Spam button ourselves. Whatever the case, if you ever need to get something out of your Spam folder, doing so is easy. Go into the Spam folder in the left navigation bar, check the box next to the desired email or emails, and click "Not Spam" in the options bar. This will move the message back into your Inbox.
Yahoo mail account How to delete spam emails
Spam is automatically set to be deleted once a month (although you can change this to every week or two weeks in your mail security settings), so there's not really any need to delete your junk mail manually. However, if you want to for some reason, all you have to do is go into the Spam folder, select the message or messages you want to permanently delete by checking the box next to them, and clicking the "Delete" button.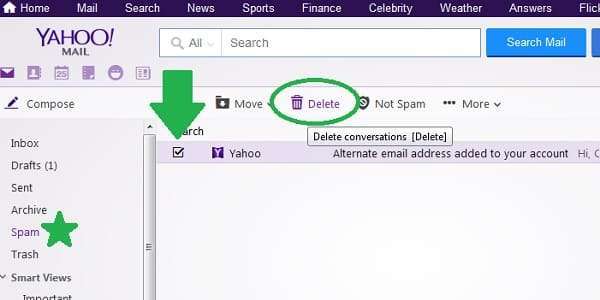 Now that you know how to label emails as spam in Yahoo Mail, you're well on your way to having a nice, clean Inbox with only the mail you want to receive. Over time, Yahoo will learn what you consider junk and what you don't, so you'll have to go through this process less often. Enjoy your new, spam-free inbox!