Yahoo Finance Plus Tool for investors and traders
One of the most representative and outstanding services of the Yahoo network is Yahoo Finance, as platform focused on finding news, tools and important financial information. From market behavior, charts and screens and other advanced instruments to analyze data, Yahoo Finance is the preferred platform in its class for traders around the world.
Now, for those investors that require comprehensive insights and state-of-the-art options to carry out profitable operations on short, mid and long term, Yahoo Finance Plus is the best solution. But, what is Yahoo Finance Plus and what are its characteristics? Let´s find out.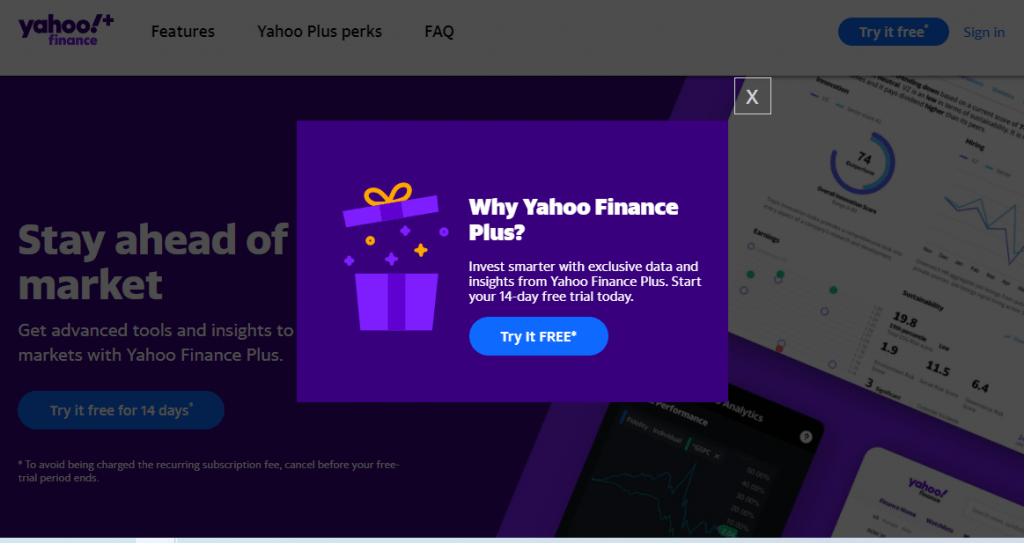 Yahoo Finance Plus: Get insights and acknowledge financial markets like a pro
Specifically, Yahoo Finance Plus is the premium subscription to the traditional Yahoo Finance platform. For a monthly fee, investors, traders and users in general obtain highly advanced financial tools, data and resources to operate successfully in the different exchange markets and more.
Through Yahoo Finance Plus, users can take advantage of comprehensive instruments and get more clear insights to operate markets around the world. Acknowledging available data with the help of charts, graphics and advanced analytics and tools will help boosting traders´ strategies.
From technical to fundamental analysis, this premium platform gives the user valuable information to operate and expand their portfolio, taking it to the next level.
Characteristics and features of Yahoo Finance Plus
To achieve all of these possibilities previously mentioned before, Yahoo Finance Plus provides different functions and tools available for the traders, investors and users alike. Some of the features are:
Enhanced charting: charting determine the market movement and therefore, the exact time when to buy or to sell. This is a patented technology that recognizes patterns respecting the chart and market, in relation to several technical indicators. Event and technical analysis require an enhanced charting tool like this one.
Research reports: with the research reports, you have access to valuable information, ideas, commentary and analysis of different markets, companies and stocks in general and their financial status. This data that is updated every day will help you invest with more confidence and operate more precisely.
Portfolio Analytics: know your portfolio in detail respecting performance for different industries, diversity, risk profile and other characteristics. Analyze thoroughly your portfolio with the help of benchmarks and acknowledge investment efficiency and output.
Company outlook: analyze and monitor metrics respecting specific companies and their behavior on the market. Track performance depending on supply chain, raw materials, earnings, insider and outsider sentiment, dividends, and even social developments and more to know if a business is candidate for successful investment, or not.
Available plans
Along with the Free plan that allows any user to take advantage of Yahoo Finance as online service, there are two premium options with different features and prices:
The Lite plan to start using Yahoo Finance Plus is the most affordable. For 25 dollars a month, traders get to enjoy benefits like: Value analysis for stocks, study tool for advanced performance portfolio, community insights, enhanced charting and graphics, educational webinars, performance monitoring, real time news and stock tracking, 24/7 support and live chat.
The Essential plan includes all the features aforementioned in the Lite plan, as well as other specific benefits for 35 dollars per month.
Added characteristics are: valuable research reports from Argus and Morningstar as trusted Yahoo partners, enhanced charting with patented pattern recognition technology, unique company data with overview and key alternative data sets, market digest newsletter and the possibility of downloading CSV reports of historical financials and statistics.
This is a super tool for what we want to learn about investing in the stock market, crypto currencies and much more.