Yahoo Finance Investments and FOREX trading
When it comes to trading and general investments, there is no better service to find related and useful information as Yahoo Finance. For many years now, this has been the platform of choice for many traders, investors and even people in general who are interested in knowing specific details and news about financial markets worldwide.
However, Yahoo Finance is also a powerful solution that allows users to carry out investments, by finding the best stocks, FOREX currency pairs and futures to trade with, as well as finding outstanding and recognized brokers across the world. Let´s learn how to do it easily by reviewing the exceptional options and functionalities available in Yahoo Finance.
Tools to invest in Yahoo Finance
Yahoo Finance is a platform that offers plenty of information: news, stocks, markets and indexes across the board respecting the financial industry globally. By using them well, all of this data is quite valuable to perform investments and have profit by recognizing trading opportunities on market´s behavior.
The available information in the platform is very useful for technical and fundamental analysis, which is mandatory to carry out successful investment and trading operations. Available tools in categories are:
Yahoo Finance Research and analysis tools
Among the many resources Yahoo Finance offers, the most important are the research and analysis tools to carry out technical analysis. In this way, investment operations can be performed more precisely and with a higher success rate. Research and analysis resources include:
Search bar: on top of the layout in Yahoo Finance you find the search bar. With this tool, the user is going to be able to find stocks, companies, quote, symbols and news in general. If you enter a key word, for example: "DOW" all of the financial indexes that have this keyword will appear, as you can see.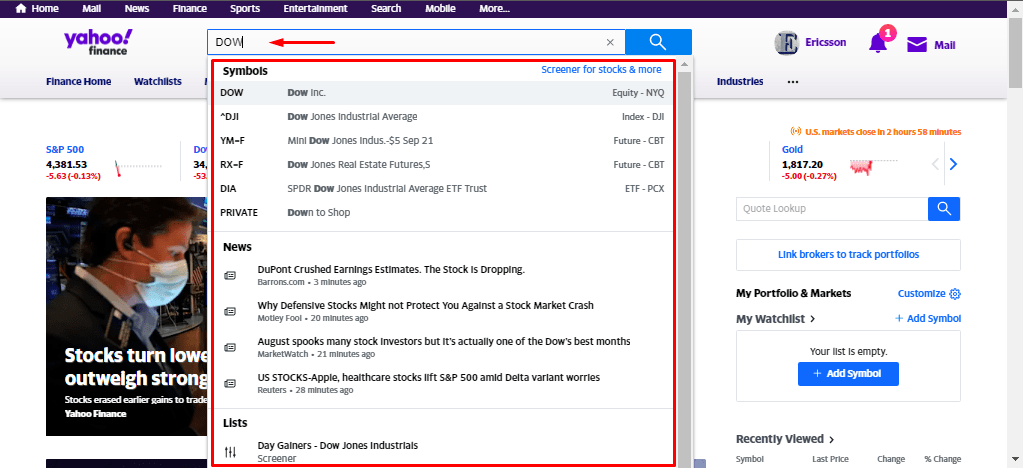 Charts and trends: if you enter a stock, market or future of interest, you will instantly have access to useful charts and trends over periods of time. This is convenient to analyze market trends and for technical study. This is the S&P500 index and its current trend in a graphic.
Side menu: on the right side of the screen you will be able to see markets, FOREX pairs and other trading goods that are available as well.
Yahoo Finance News and financial information
By using Yahoo Finance, users will be able to get updated information every day for fundamental analysis, which is more important than it may seem at first glance in finance. Through the platform, you have access to:
Financial information and news: Yahoo Finance offers updated information and news respecting monetary developments worldwide. Commentary, deep analysis and specialized entries are available permanently. Like this, following and predict market and trend behavior will be easier.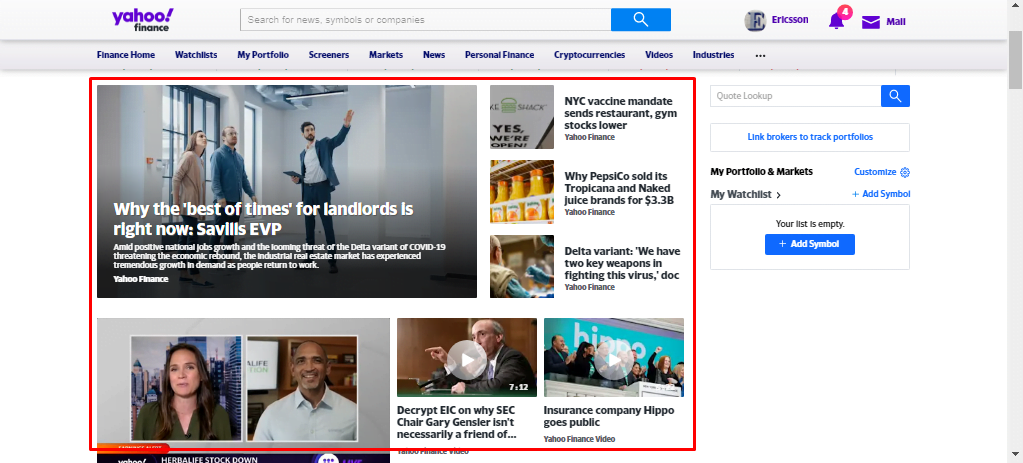 Market events calendar: being informed about important financial events is critical for traders and investors. With the built-in market calendar, you will be aware of each coming monetary announcement, share splitting, IPO, earning results and more.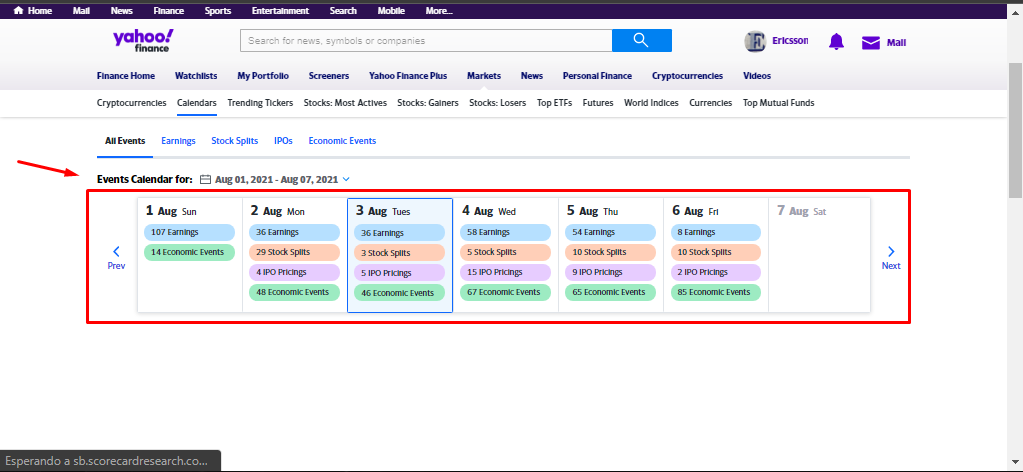 Yahoo Finance Investment Management
Yahoo Finance is a comprehensive financial tool that allows to manage different investment lists of interest for the trader and have everything at first hand. Two powerful tool for this purpose are:
My portfolio: in the My portfolio section, you can consult as many financial products as you need and have them at one click, checking their behavior on the market for further operations and more. Create a watchlist and add symbols and stay always aware of important information respecting the markets you are interested in.
To do it, click on "Add symbol" to the right. For example, if we click "Gold" results will show different options to add it to the watchlist.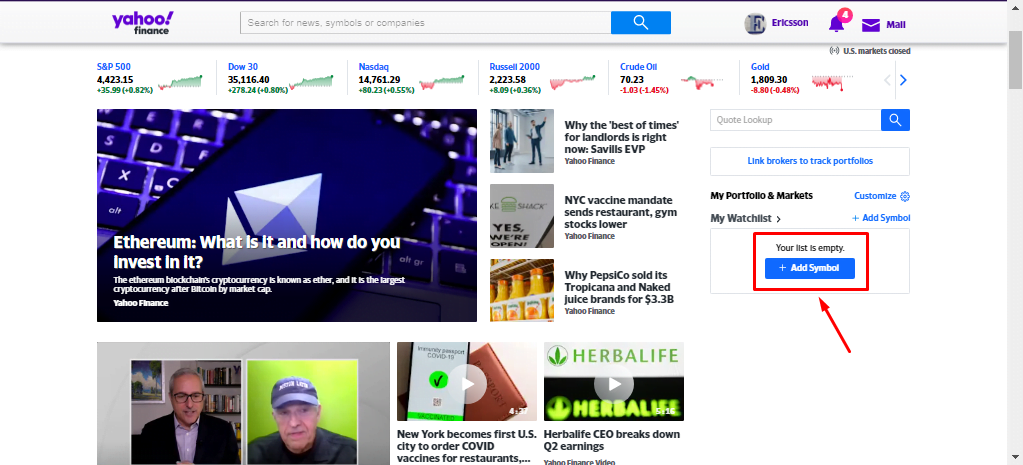 Yahoo Finance FOREX-focused tools and resources
FOREX or Foreign Exchange market is the biggest and most liquid worldwide market for currency exchange and trading. Yahoo Finance includes information of interest and tools for FOREX traders.
For instance, on the menu to the right you can see the Currencies section. In here, you can find the currency pairs and their price on the market, last changes and more. This is important to know in FOREX operations. To trade euros for dollars for example, you click on the currency pair of EUR/USD.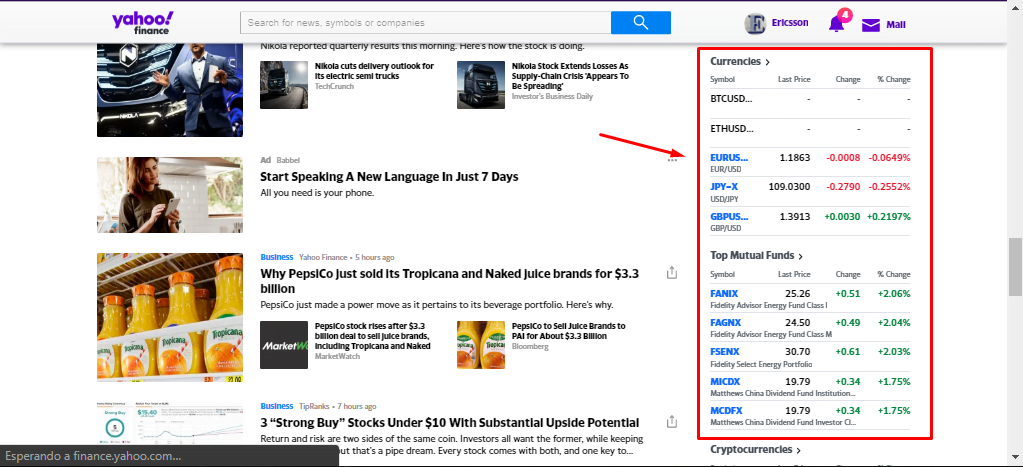 Then, click on "Add to watchlist" like this and never miss information about it ever again.
Conclusion
With all of the information and resources Yahoo Finance provides, it is possible to perform investments in FOREX and in many markets and stocks in general.
Now, it is important to clarify that Yahoo Finance is not a market, but an informational platform. However, you can find a broker using the website. Click on "View broker center" to do it.