What Yahoo Mail Plus? Benefits and disadvantages
When it comes to internet services, the Yahoo network is one of the most outstanding by including plenty of online solutions and useful platforms for affordable prices or even for free. One of these services that is worthy of being highlighted is Ymail or Yahoo Mail Plus; the ultimate subscription-based email solution with plenty of security, usability, customization and support features. 
Let´s review the characteristics of the Yahoo Mail Plus platform, in terms of functions and general benefits along with possible disadvantages, which are a few only.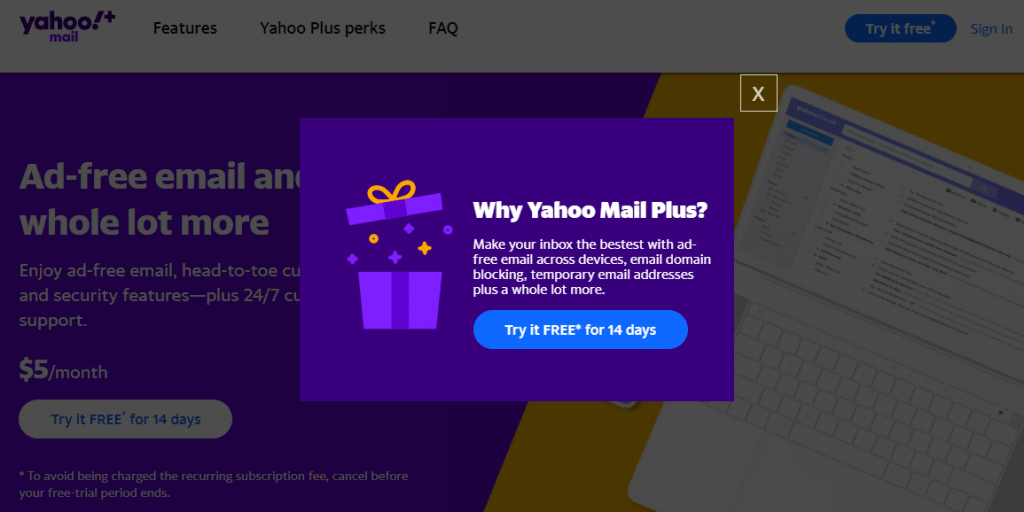 Yahoo Mail Plus: The ultimate premium email service
Specifically, Yahoo Mail Plus is the premium email solution provided by Yahoo. By paying an affordable monthly subscription, users will be able to enjoy a comprehensive and fully-featured platform that worth every paid cent in great value.
Yahoo Mail Plus is completely ad-free service, with premium features respecting customization, control, security and permanent support. Such features make the platform perfect for those users that require a reliable, secure and compatible email service with their desktop and mobile devices. 
In the same way, by acquiring Yahoo Mail Plus automatically subscriber perks benefits will be available for the users. From enjoying discounts to completely unlock features and services in the Yahoo network, possibilities are great by getting the Yahoo premium email plan.
Advantages of Ymail or Yahoo Mail Plus
Here are some of the benefits that a Yahoo Mail Plus subscription provides to the user:
Ad-free: get rid of those annoying and intrusive add for good. Enjoy a cleaner and more organized inbox.
Domain blocking: have more control over who or what can email you. Directly block domains you do not want to get messages from.
Disposable email addresses: create disposable email addresses and share them while receive messages on your inbox, as you protect your real address and maintain privacy.
Permanent support: have 24/7 customer support and enjoy assistance in resolving any issue.
Reply reminders: be reminded about replying emails you have not yet. Answer every message you receive from important contacts.
Automatic forwarding: forward messages so they can be received automatically to another email account of your choice.
Subscriber perks: with your premium Yahoo Mail Plus account, obtain subscribers perks and other benefits related to other services belonging to the Yahoo network.
Among other benefits, users can add email accounts from other providers, have all attachments and photos in one place and enjoy up to 1.000 GB of storage capacity.
Disadvantages of Yahoo Mail Plus
If there are some disadvantages to mention respecting Yahoo Mail Plus as a service, a few to stand out would be:
Feature incompatibility on mobile: some features, such as automatic forwarding and disposable email addresses are compatible only with desktop, not on mobile email. Reply reminders is another characteristics is available only on the desktop version.
Storage limits: while the advertised storage capacity is up to 1.000 GB, such feature is subjected to storage limits as abuse, spam and other behavior.
Lack of different premium plans: for 5 dollars a month, Yahoo Mail Plus is available through one paid plan only, with no other option.